SVCET WELCOMES YOU !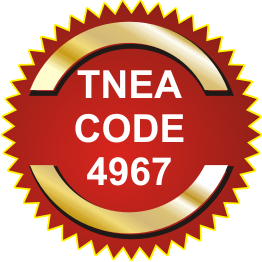 Quality Policy
1. Industry-ready professionals to be developed through Interactive Teaching-Learning Process, Corporate exposure and project work
2. Upgradation of faculty through enhancement of their academic qualification, interaction with industry, through seminars etc
3. Modernizing facilities with world class infrastructure and be the preferred institute of employers for placement
Central Library
The Central Library is situated in the centre of the campus, so that every one can easily access it. There is a separate spacious building which is exclusively set aside for the library to accommodate large volumes of books and journals.
The Central Library has an enormous collection of 19467 volumes of books. 56 Journal/magazines of National/international level and 900 CDs/Floppies have been provided. Library is classified under Dewey Decimal Classification (DDC), latest edition.
The Library has separate Reading Room, Reference section and Periodical Section, which are all atomized. The library is facilitated with quick book transaction using Impromptus library software. Reprographic service is also provided with the help of a Xerox machine.
Library Timing 9.00AM - 6.30PM
The students can use the library facilities even after the college hours. Library network and internet facilities have been provided for the students in the Digital library. The library stock is being increased with latest publications at every moment. An exemplary library service is provided and maintained by well qualified library staffs. Recently it is certified by ISO as a well maintained Library.
Departmental libraries have also been recently provided for each department and there is availability of inter loan facilities of books. Often, book sellers conduct book exhibition at our college library which helps to add new books in our college.
Gallery