SVCET WELCOMES YOU !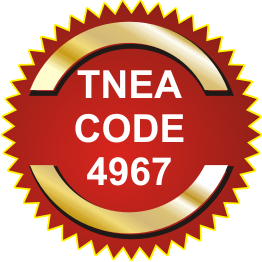 Quality Policy
1. Industry-ready professionals to be developed through Interactive Teaching-Learning Process, Corporate exposure and project work
2. Upgradation of faculty through enhancement of their academic qualification, interaction with industry, through seminars etc
3. Modernizing facilities with world class infrastructure and be the preferred institute of employers for placement
YOUTH RED CROSS
Introduction:
The Youth Red Cross (YRC) is one of the avenues among NCC, NSS and NSO available to the students to be pursued under Personality and Character Development Programme.
Establishment:
The YRC is the most important constituent of its mother organization, Indian Red Cross. It is a student movement organized for students in Colleges and Technical Institutions. YRC in SVCET was established in the academic year 2005-06 as per the orders of the Government of Tamil Nadu.
Objectives:
The objectives of the YRC are to impart a sense of discipline and formation of character to the students.
In our College, the students are moulded to be not only innovators, explorers, scientists etc., but also to be the best engineers with social consciousness to transform into nation builders. This has been possible, because of the training imparted to them in the first year of their studies in discipline, character building, personality development etc. along with academic input.
The participation of students in any one of the avenues namely, NATIONAL SERVICE SCHEME (NSS) YOUTH RED CROSS (YRC) helps the students to inculcate discipline in them and to understand their responsibilities towards their countrymen, especially the poor and downtrodden.